Many fairy tales revolve around castles and courts. These places are filled with wonder and awe, horror and debauchery. They are both simultaneously filled with dark and light. Capricious nobles, strange and incomprehensible to us born outside their world, are ready to take advantage of us, to be overtaken by us, to destroy us and to be destroyed, to give us blessings and curses, to reward treasure, take treasure, and have treasure taken. There are secret places in here to explore, to hide in. Ways in, ways out. People in there of all kinds, different factions with different interests, all revolving around the mystery and mysticism of the castle.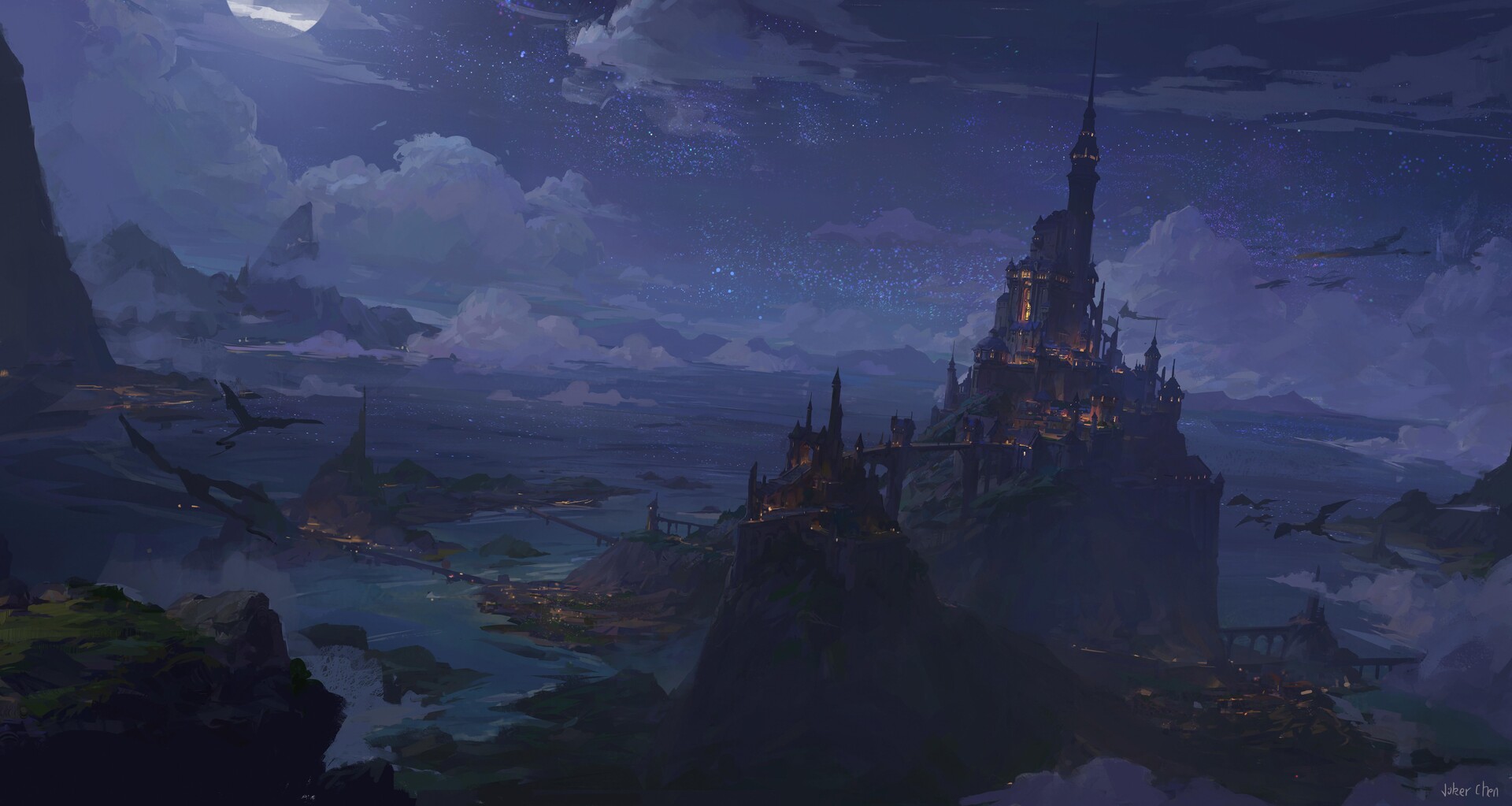 Joker Chen
These are dungeons, but less dirty, grim, and abandoned, more poetic, mystical, strange. In a dungeon, cobwebs fill hallways and the dead shamble around. This can happen in castles as well, but in fey castles or gothics, you have animated suits of armor, strange servants, weird guests.
Let's look at two examples: Bluebeard's Castle (fairy tale) and Dracula's Castle (gothic).
Bluebeard's Castle
is a place of horror and mysticism. It is beautiful, and the castle's owner, Bluebeard, is charismatic, attractive, groping. He invites you in, barrs one secret room, and gives you keys to the other. You stumble from fairy tale room into fairy tale room, dancing with strange servants, surviving strange riddles and puzzles. But there is that secret room, that dark room, that strange room with the potential treasure and horrible curse. In all ways, this is a dungeon for fey.
Dracula's Castle
is much the same. Surrounded by direwolves and spectres and will-o'-wisps, filled with vampiric brides and hiding peasants trying to escape their damnation. Locked doors that hide darker secrets that must be explored so that you know you can leave. A haunting, stalking, loping master of the castle, a threat coming through the walls or into your room.
Josh Black
And yes, keep in mind, there are rooms to rest in within the castles. Places to regain your faculties. Or, places in which even weirder encounters can happen. Dracula's brides invade and you must fend them off through wit until their husband returns to calm them. Bluebeard returns and you must hide from him, keep it secret that you've been in that Dark Room, survive his hunting of you when he finds out.
Yes, castles are dungeons, but with more active threats. Intelligent dangers that know you are there and want to interact with you.
Strahd's Castle is a dungeon, but an Archfey, an Elven Prince, the Winter Court can all have a similar one.
Whenever I see fey adventures, I always see forests that, glades this. No one ever really makes adventures around the castles. But it is here that the fairy tale is the most powerful, and where the gothic can be wedded to it.
It is this wedding that I think has a lot of creative potential for dungeons and modules in the future. A castle that takes both fey and gothic elements to make something. Like the 5E Raven Queen, who is at once a god, an archfey, and a gothic horror, who resides in a Castle of Memories. This is the perfect dungeon place. Invade and plunder the memories of countless tragedies to learn secrets to defeating enemies, or finding rare treasure. Hide from the Raven Queen and her elven servants, and avoid the gloom-beasts that manifest here too. Every room can have a new puzzle or encounter or secret with ease. Other factions can be in here, perhaps adventurers or elves or those seeking audience with the Raven Queen
And let's talk audiences. For a game about adventure, these are often glanced over. But an audience with a powerful gothic-fey (or a normal fey or a gothic creature) can be a great puzzle. You must at once dodge around their ego, have wit-duels with other members of courts, gain allies to help you, present treasures or plan how to escape, potentially have a crazy battle, potentially hoodwink or trick whoever you are having an audience with--there's lots of potential here.
Now with this all positioned, I guess the next step is to actually make a castle-dungeon adventure. I'll have to sew on that though.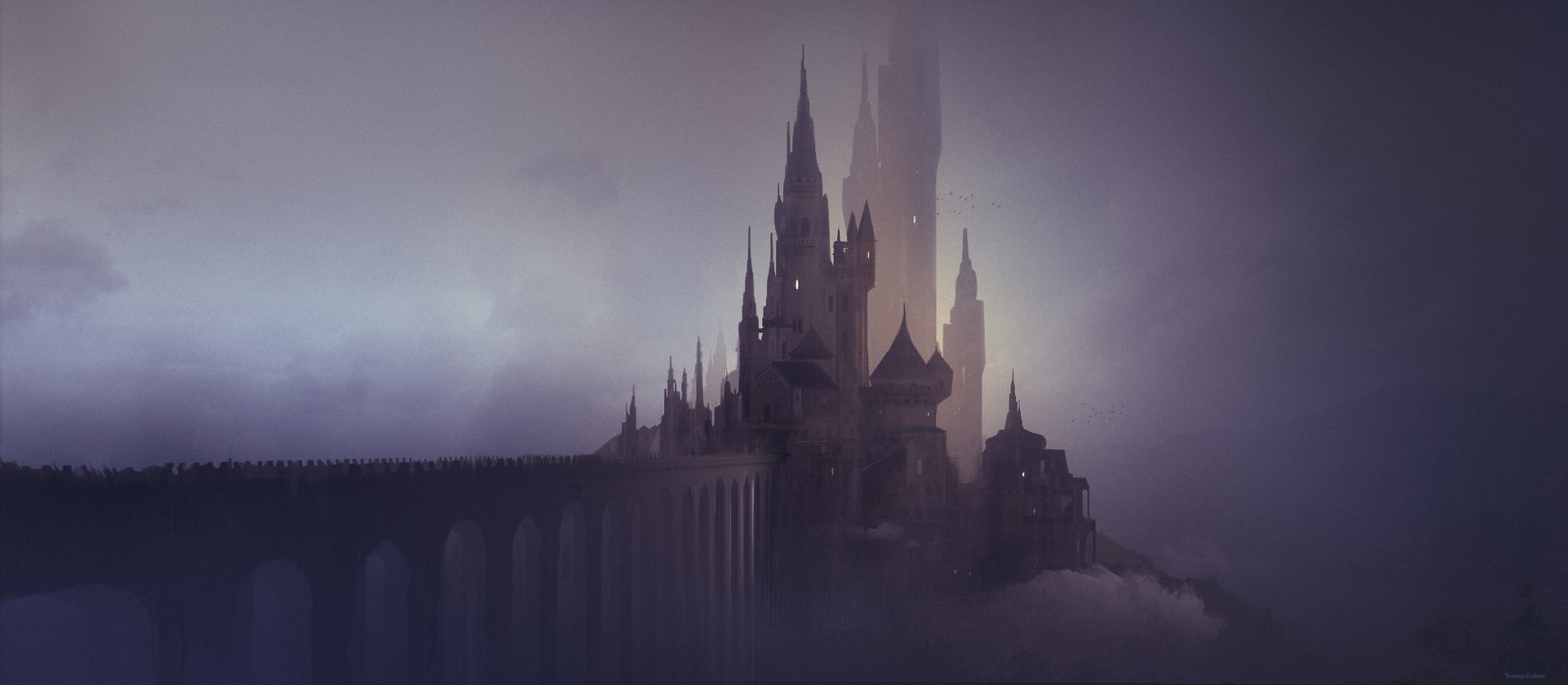 Thomas Dubois