In Eberron: Rising from the Last War, we learn that a big difference between this world and the rest of the multiverse is that alignment is not an actual force that exists. This was very intriguing to me, because that means that in other D&D settings, alignment is a literal thing, not a concept, nor a state of mind. In other words, the planes influence creatures, making them evil or good or neutral, lawful or chaotic or neutral
. It is as set in their existence as their species, as it resides in their very souls. And while it can be changed, this change requires magic or it requires extraordinary circumstances, as it is a change on a deep spiritual level.
I like this. I like it a lot.
Not because I think it mirrors the real world, as it doesn't, but it opens up a lot of themes for me to start playing with. Before I get into those themes, let me go ahead and describe what each alignment means to me.
Note:
this is not the actual definition of alignments, and I'm not trying to debate what alignment is in canon. I'm discussing what alignment means to me and in my games.
Lawful
- The need to organize, for stability, and for peace. Does not shake the boat, and fights primarily to keep the world put together in a way that allows for consistent life + a consistency in achieving a net positive.
Chaos
- Raw passion unfettered, leading to constant change, the chasing of ideals and hopes and dreams, not caring for peace or stability because it is always worth it to go for a new high.
Good
- The manifest need to help selflessly help others. An impulse to ensure that others are happy, that the greater good is served, that no one feels played or screwed over, for everyone to be content when all is said or done.
Evil
- Hatred gone into overdrive. A hatred for the world, a need to inflict suffering so that others understand your own pain. A rage that burns and doesn't care about equality or true justice, instead wanting to selfishly get what you need, no matter the cost to others.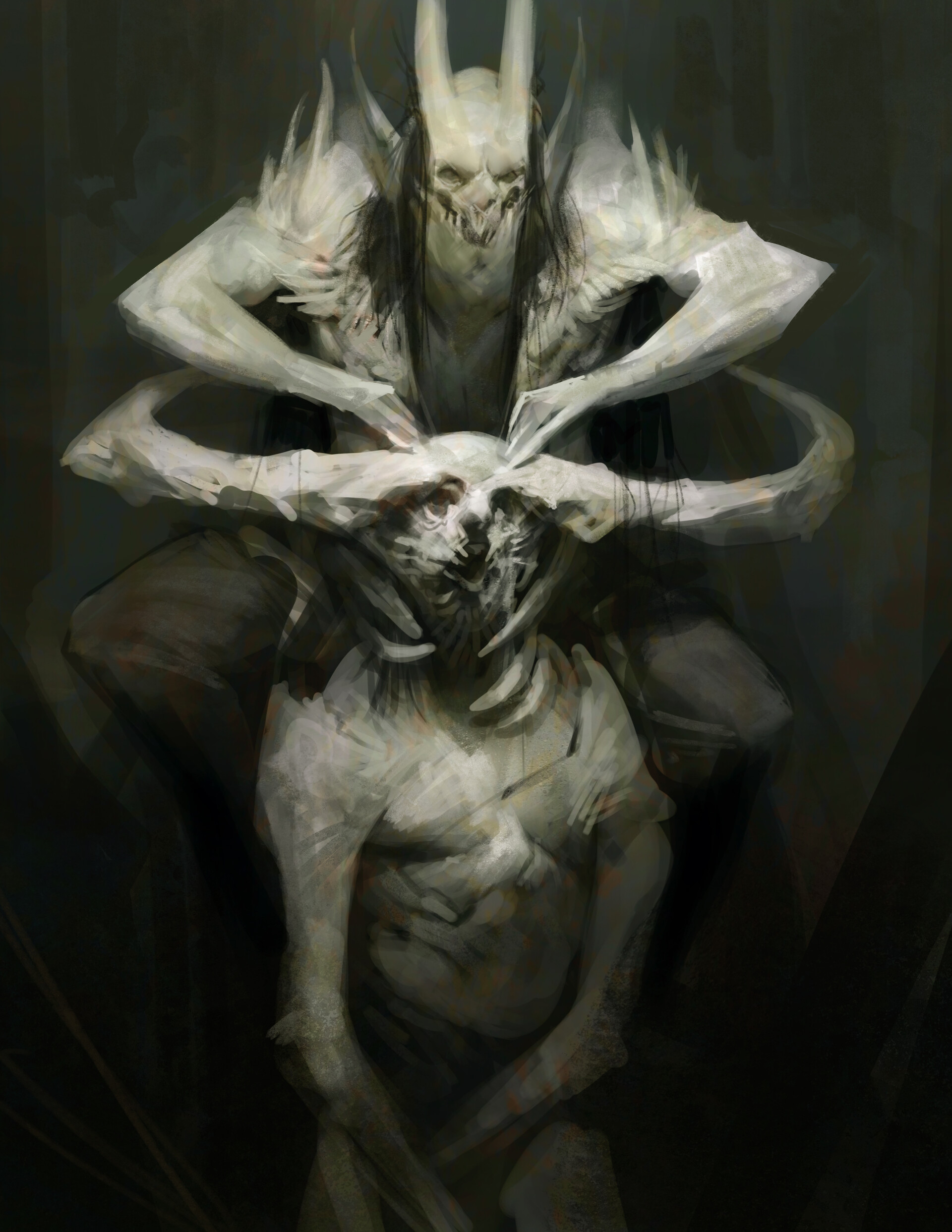 by Anthony Jones
Evil feels like an infestation; worms in the apple of your brain
Neutrality
- A balance between the selfish and the selfless. Understanding that in life there is good and there is evil, there is happiness and their is suffering, and that both can occur. Realization that one's alignment is not 100% descriptive, and that even evil may do good at times, and vice versa.
Unaligned
- The vast majority of souls, when born, go to plants and beasts. These souls, overwhelming in number, know no alignment; they simply exist, biology dominating spirituality, living and dying and being reborn eternally until evolution comes.
So with this said, the theme I see being made manifest is this:
Is it more noble to be born a saint, or to overcome one's nature for good?
There is redemption in the Forgotten Realms and in other D&D multiverse games. The evil can rise, the good can fall, the law can descend into chaos, the chaotic can be forced into law. As these forces interplay with one another it is the player characters who are caught in this game of cosmic flux; a game where devils and angels compete for souls in their wars, an endless trial where they must contend with the spiritual force of their souls which weighs in on every action they do.
Will the barbarian find peace, leaving the chaotic battlefields and instead settling down into an orderly village?
Will the warlock be able to resist the evil of their Fiend patron and once again come to love others?
Will the paladin succumb to their hatred and choose to use their oath selfishly to punish others?
These are overarching things that I think alignment can question and make D&D into a pretty good story. Similar to Burning Wheel's beliefs, D&D alignment, under this lens, becomes a way to challenge the characters and to make the story very focused on their actions.
Spirit Healer from WoW.
Good is an energy to selflessly help others.
To go with this requires a little bit of worldbuilding. If I want to use this, then alignment has to be a force with origin. Naturally the planes are those origins. You have the Elemental Chaos, where the power of Law has seen it split into countless half-planes. You have planes where chaos and law both overflow, where law and good fountainhead, and both spill into the prime material planes across the cosmos. At higher levels, or maybe lower ones depending on the story, these planes should play some vital roles in the player's adventures. It is from here that their souls are decided. It is to here they must eventually go if they wish to change themselves truly.
Lastly, we have to talk about
Free Will
. Does free will still exist in a world where alignment is a force? Well, that depends on your definition of Free Will. Alignment does not control you, but it does tempt you. Alignment does not remove agency. Instead, it is a constant reminder, an impulse, a voice or hand guiding your actions. You can resist it. You can fight back. And by fighting back, that is how you can possibly change your soul. Can nature overcome nurture? Can nurture overcome nature? Is there a balance between the two? These are things that are decided by the players, not the DM.