This is the center of your campaign. All characters want to find this thing, either to kill it or to ask a favor from it or to protect it from something else.
It is a god of life and of death. Its soul is this Forest and its flesh its manifestation. During the day, the Great Forest Spirit is a creature that can be touched and, some say, even killed. At night, it is a Walker, the unseen and formless danger under the boughs, the strange sounds dancing on strange winds.
Pick up one of every die type from d4 to d20. Roll them all, and consult the tables below. This will be your Great Forest Spirit.
d4
The Forest Spirit has the face of...
A man, painted blood red
A woman, made out of porcelain
An infant, made out of gold
A leper, studded with coral
d6 ...and the body of a...
Elk
Wolf
Boar
Lion-Dog
Bear
Giant Salamander
d8 Its body is strange! It has...
Horns that branch like trees growing along its body.
Tattoos of blood and mud that swirl along its limbs.
Too many tails.
A body ten lengths too long.
Multiple heads that stretch from its shoulders.
Neither flesh nor skin, just cracked bones.
Ivory spikes that encapsulate its limbs.
Additional faces on the side of its head.
d10 At night, it becomes something vicious, a(n)...
Giant made out of translucence.
Great skeleton wreathed in bells.
Giant version of itself, whose body reflects the cosmos.
Demonic version of itself that floats over the canopy.
Featureless version of itself, massive and terrifying.
Draconic version of itself, gripping a pearl and spiraling above the canopy.
Amalgamation of 2 other creatures that live in the forest.
Elemental version of itself, giant and made out of soil, root, and flame.
Featureless monk who neither moves nor speaks.
Wild and violent creature whose gilded eyes are the only thing visible.
d12 Around it...
Flowers blossom from its footprints and then wither.
Trees creak and groan, as if being moved by strong winds.
The sun and moon shine brightly where it walks.
A wall of rain trails after it.
Wildfires spark and die where it looks.
Artificial tools, such as clothing, guns, swords, etc, return to their natural states when looked at.
Small springs fountain from its footprints.
Bells ring in the distance when it is nearby.
The air tastes of ozone and copper, as if lightning were about to strike.
Tree spirits manifest and watch the Forest Spirit like a captive theatre audience.
Ice forms along the length of trees and flesh.
Fossilized bones are unearthed from the ground.
d20 And if you kill it...
Its head will grant you immortality if you drink the fluids it produces.
And take its eyes, if consumed, will allow you to see how all things will one day die.
And take its lips, if worn like a necklace, will allow you to breath life into the dead by killing another.
And take its hide, if worn, will give you command of all beasts.
And paint its blood onto your flesh, you will become immune to all Demonic Curses.
And string its feet to weapons, those weapons will turn men into demons by killing them.
And take its liver, if consumed, will render all poisons impotent to you.
And take its vocal chords, if eaten, will allow you to speak to trees and bones.
And take its flesh, if burned and the smoke captured, will allow you to strip the lives of all who smell it.
And take its brain, if consumed, will teach you the future.
And take its genitals, if worn like a necklace, will ensure all children you have will become kings.
And take its face, if worn like a mask, will make all men who see you worship you.
And hollow out its stomach, it will be able to contain any amount of anything you put into it.
And flay its skull, it will vomit liquid gold for eight thousand years.
And plant its flesh like seeds, it will create a Great Forest that you are the god of.
All creatures will be turn into dumb beasts, to be hunted for meat or treated like plants.
It will turn into a headless monstrosity and steal life until it finds its missing organs.
All living things that the killer touches will wither and die.
The sun will set and never rise again.
You will turn into a dumb beast, possessed by greed and bloodlust.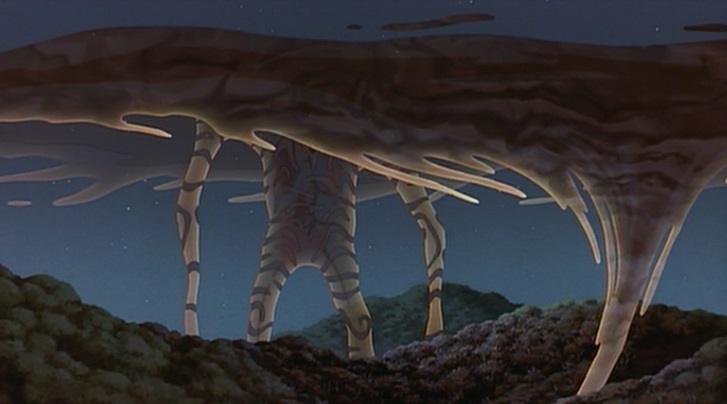 GREAT FOREST SPIRIT
HD: Either Infinite in Day/Night Forms, or 1 while transforming
AC: As leather
SPEED: x2 that of man
MORALE: 12
ATTACKS:
Life & Death: +12 to hit. Either fall to 0 HP and die or be restored to 1 HP if dead.
SPECIAL
At night, the Great Forest Spirit becomes a Nightwalker. In this form, it can reach any enemy it chooses within its forest, though it must still roll to hit.
Anything the Great Forest Spirit focus on becomes overgrown with flora. If this happens for two rounds, the thing becomes unusable.
Curses are automatically invoked when in the presence of the Great Forest Spirit.
If given a living sacrifice, the Great Forest Spirit can transfer HP from the sacrifice to another creature of its choice, including itself.
If the Great Forest Spirit dies, all spirits and gods residing within its forest do so as well.
Touching the Great Forest Spirit directly results in instant death unless it has died.
It takes 5 rounds for the Great Forest Spirit to change between its Day/Night forms.